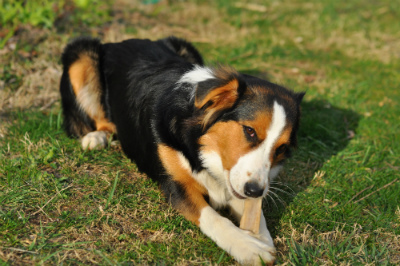 2019 Update
Maple is with Madison County locals, Becky and her family on their homestead. Here is what Becky wrote when I asked for feedback. "We love Maple, she is such an amazing dog. She is a true farm dog who is always watching over our homestead. My favorite thing to see her do, is sitting on the hill out front watching everything. She is able to see the road and the house from there. It is such a beautiful site. We still take her for walks around the property, but she seems to know the boundaries and does not wander far when off the leash. I also love how when the kids are outside playing she always nearby.
2018 Update
One thing we really noticed about her from an early age was how she made a lot of eye contact with us, almost as if looking to us for direction. She has been eager to please, but still has a wild streak that gives her a fun and spirited personality. She immediately knew to herd the stray chickens in our flock of 18 into a single group and so far has never touched a chicken in any of the herding she's practiced. Her natural gift is abundantly clear and we can really see she has a strong herding instinct. This has caused minor annoyance with the kids (when they are moving fast, riding a bike, etc.) and anything with a wheel or that rolls as she often, when excited, will attempt to nip at and/or bark at them. She also has a hard time not wanting to try to wrestle/play with the kids if they are on the ground at her level. Though she is responsive when we tell her to "leave it". Today I witnessed the sweetest moment with her and my daughter laying on the floor together just looking at each other, and Maple was not trying to gnaw on my daughter.
Maple's recall has improved so much and she comes almost every time we call her. It is usually when she is highly focused on something that she doesn't come immediately, although this could also be that she has hit adolescence:) She does usually come eventually. We are now able to tell the difference in her barks, whether she is just barking at the cat to get it to play with her or if she is alarming us to something. Recently the electric company came to check a pole and she barked at the man until I came out. Once I let her know it was ok she stopped. This is not always the case with getting her to stop barking when I want her to and is something we are working on.
A couple other things that have recently come up are some jumping on people when excited and the incident last week when she chased after us in the car. I feel like both of these things are related to her age and that we just need to be on top of them and do lots of correction. All in all we are so happy to have her in our family and any issues we are having now seem so minor to all of her great qualities and with more work from us I am sure those issues will start to be resolved. I have attached several pictures that I took last week (she is so fun to take pictures of:)"