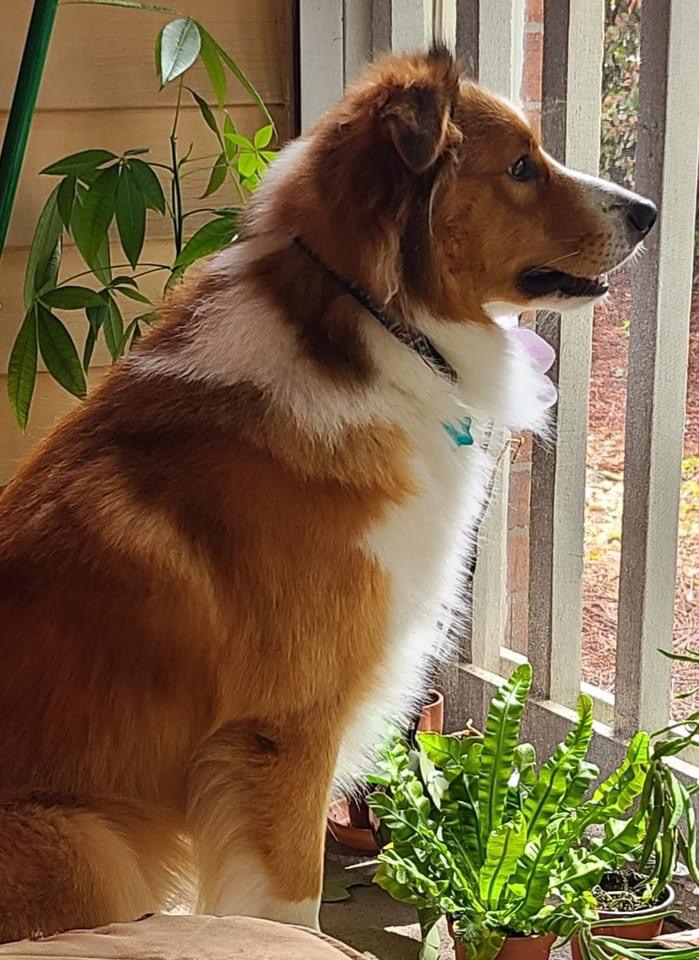 2021 Update
Clyde is with new owners in SC. "He's just great, smart, sweet-tempered, loving, protective...an OTSC!" Also described as a cuddler, playful and attentive. His owner has said OTSC's love their children. Clyde enjoys playing frisbee.
2019 Update
Clyde sired a litter that was whelped in early 2019. Helen Holbrook's description of Clyde from the OTSC registry "A gritty independent worker he has readily taken to farm routine despite not being introduced to stock as a pup. He follows close at hand while I work in the pasture and tries to step alert me if something is amiss. When the horse moved too close to my preschool aged son on the other side of the pasture (he wasn't supposed to be there) he immediately stepped in, moved the horse, and came to get me. He seems to have that innate intelligence that allows him to gauge what the situation calls for and step in as needed. He does however respond well to verbal commands and is a good listener. He also enjoys catching moles and other small varmits."
2018 Update
Clyde lives in Virginia with his future sweetheart OTSC who is 3 months older than him. He had the sweetest meeting with his new friend. "My husband said Jake, our son, was asleep and the pup curled up in the seat with him and Jake fell in love".
Clyde battled and beat Parvo in late Oct./early Nov. "Honestly he doesn't go out around other dogs. Our only thought of how this is occurring is the stray cats in the area. We have been watching our other puppy carefully and she has no symptoms. She is finished with her vaccine series at this point and Clyde has had 2 rounds." He received lots of snuggles and recovered within about a week.
"In our experience, Clyde has a been a great companion for our son. He is a bit rough around the edges and likes to bend the rules (just like our son). He has been much easier to train than our other OTSC. He is 3 months younger than her but has a lot more skills than her. He is a bit smaller than Rose in height but definitely is thicker and more muscular build than she is. We think Clyde is great! He has a blast with all the kids and still exhibits herding instincts. I think Wallace and Montana were a great pairing."