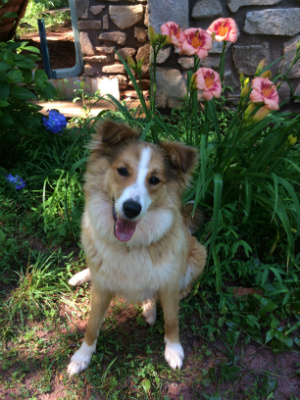 2021 Update - We're sorry to say that Sofie was hit by a car and died instantly. She is deeply missed.
2019 Update - Sofie is with us on our homestead with her mama, Montana. She loves wrestling and playing games of chase with her mama. Sofie is a runner! She is always zooming around the yard trying to get Monatan or one of our children to run along with her. Sofie is cared for primarily by our 12 year old daughter. Right after teaching the 2018 litter to sit, our daughter thought it would be a good idea to teach Sofie to jump through a hoop. That turned out to be a mistake we realized. It took quite a bit of time to train the jump back out of Sofie. Sofie still jumps for joy when she sees a family member approach, but will now sit to be greeted.
Sofie keeps such great eye contact and is truly eager to please. The vet has commented on how well behaved she is but I think this is a common comment from reading the FB OTSC posts. Sofie alerts us like Montana does to anything she deems unsafe for the children. This includes sledding and going down the slip n' slide. She has put herself between the children and a snake and barked to get our attention to "handle it".
Sofie has Wallace's shorter coat and is small like him. Right now she has a black patch of hair along her spine and darker colored ears but it's at the base of the hair, not the tips. I'm thinking this will turn black like Montana's did and she will end up a shaded sable but this might be wishful thinking. Right now she is pretty uniformly butterscotch color (different than Montana and Wallace) with white chest, socks, and tail tip.