We are pleased to announce all the puppies have been placed in wonderful, new homes! We had so many applications that we were able to find mostly farm/homestead situations for them with experienced dog owners. As stewards of this breed, it is our goal to put them in working environments when it matches the puppy's temperment. Putting these dogs in environments where they can show their full potential, helps identify dogs that will pass on the best of the breed's characteristics. Unfortunately, this means that they will be leaving us soon and that is tough, especially for my own little ones.
This past week the puppies had their first nail trim and it went just fine, a little wriggly though. It's good to handle them early and often, all over their bodies so they are used to being touched in case of any need for medical care, it makes the vet's/groomer's jobs a little easier. We will be giving them their first bath when we get out of this cold spell. They enjoy wrestling and sleeping in the dirt and it's starting to show on their coats! While they have nicer accommodations, they often prefer to sleep outside in the dirt!
We have placed a dog house in their yard and a crate in the dog "coop" for them to explore. Many of these puppies are destined to be inside/outside dogs, so we want to get them used to both. While we won't have time to fully crate train the puppies, Montana will show them it is a secure space and that they'll need to find somewhere else to relieve themselves. This should ease the journey for those going on long car rides to their new homes, though I imagine there will be a good deal of holding and snuggling by those family members who are not driving.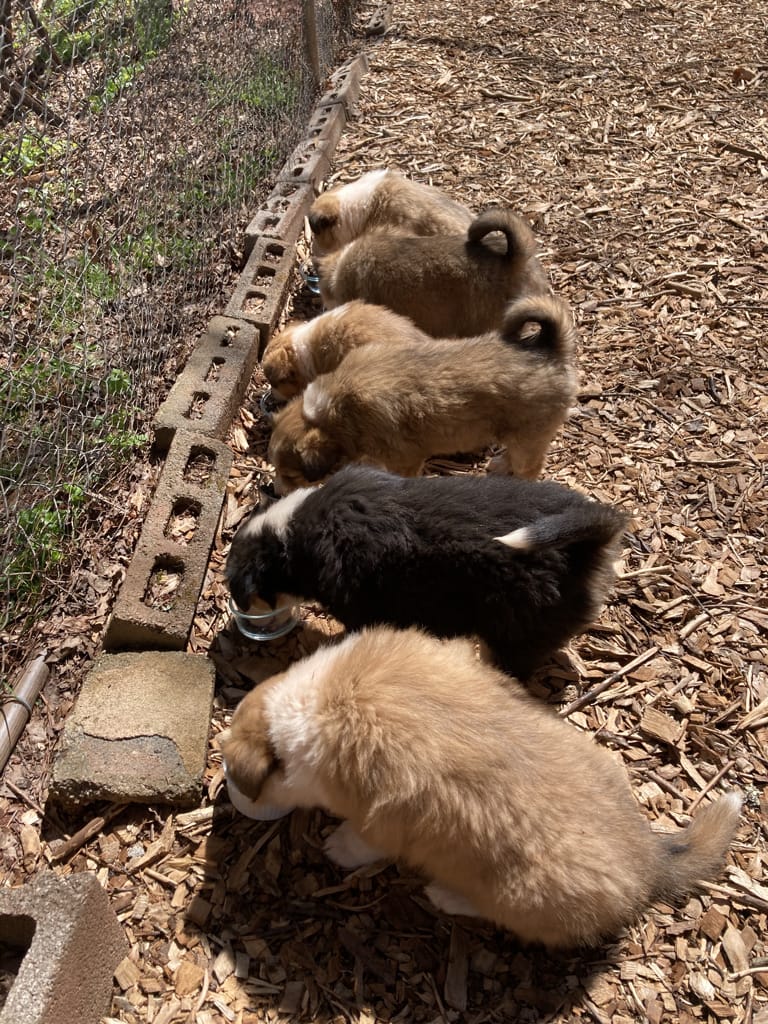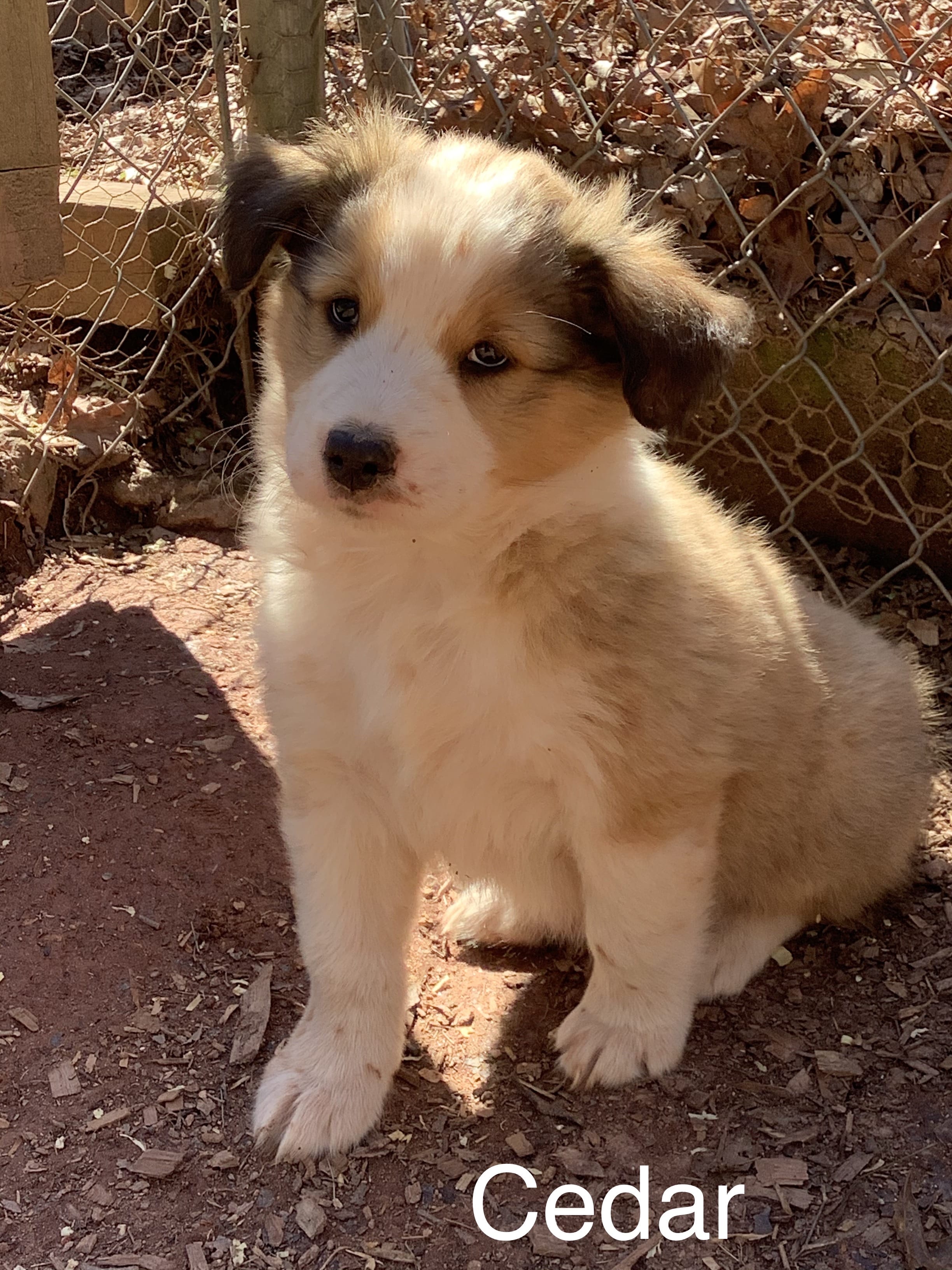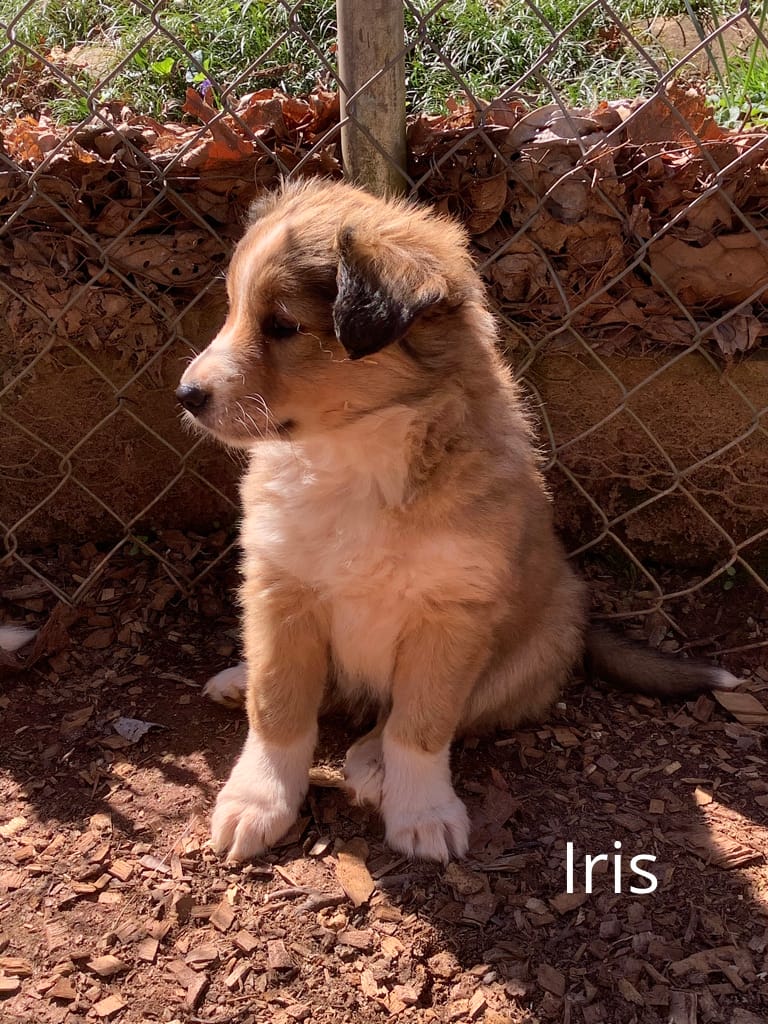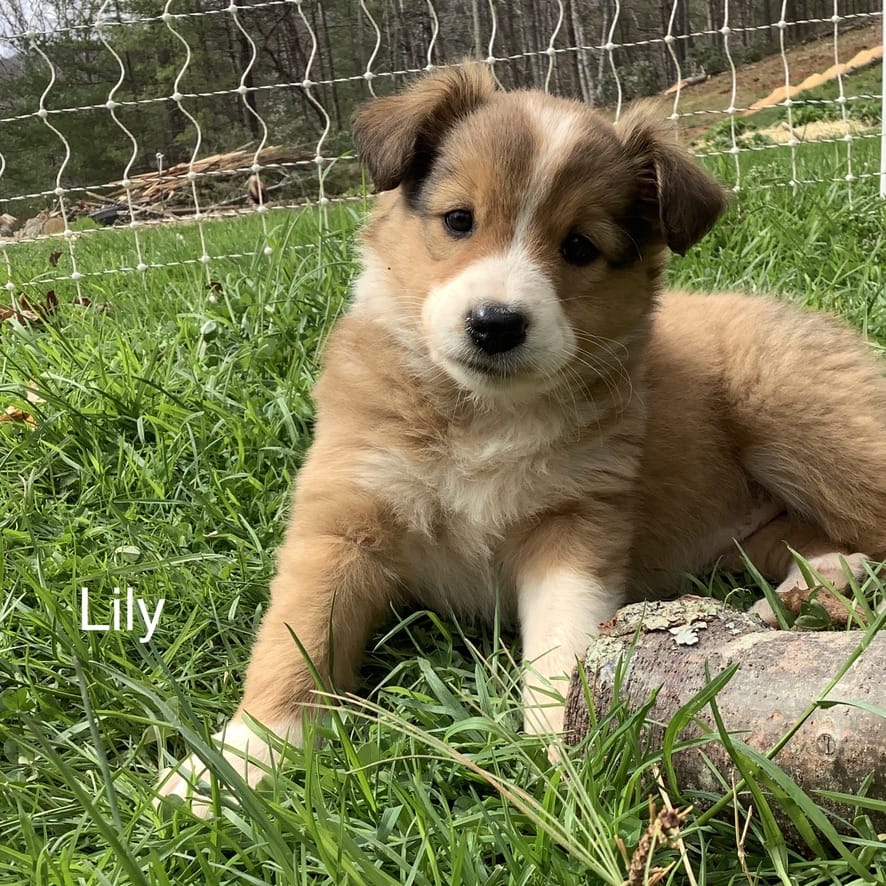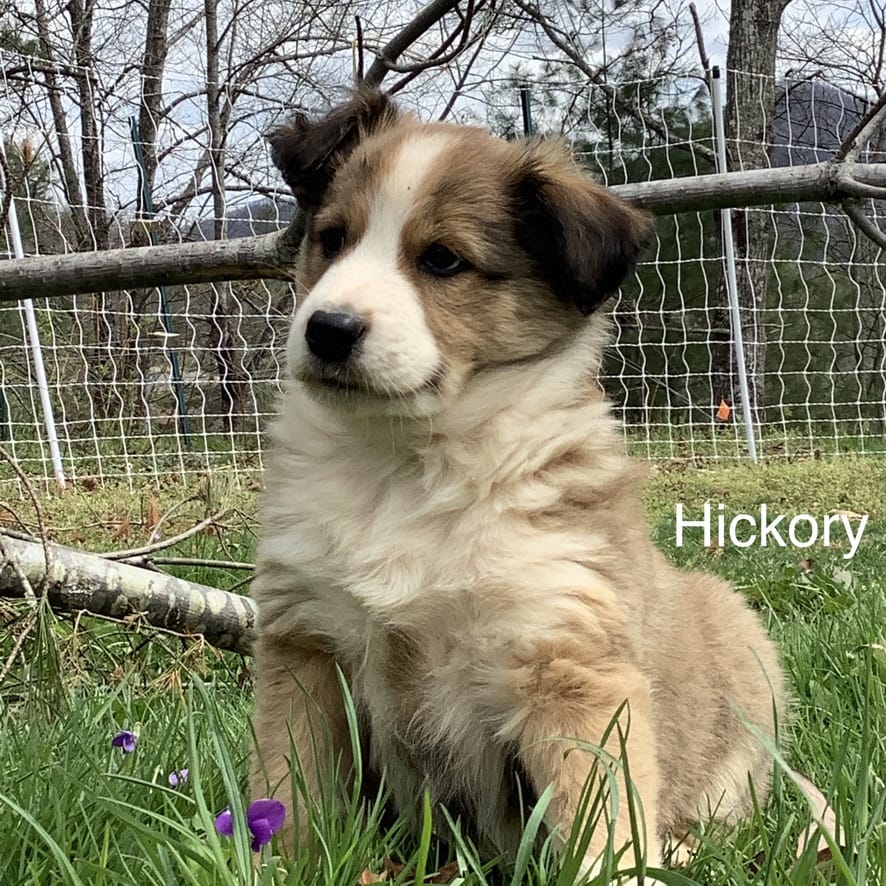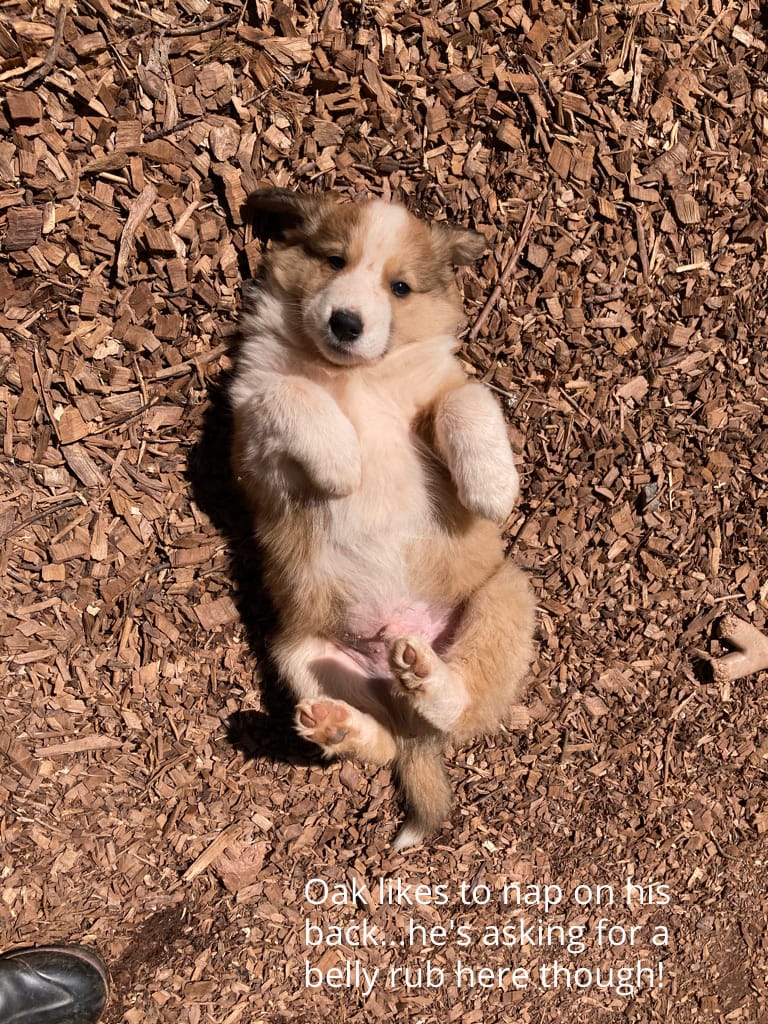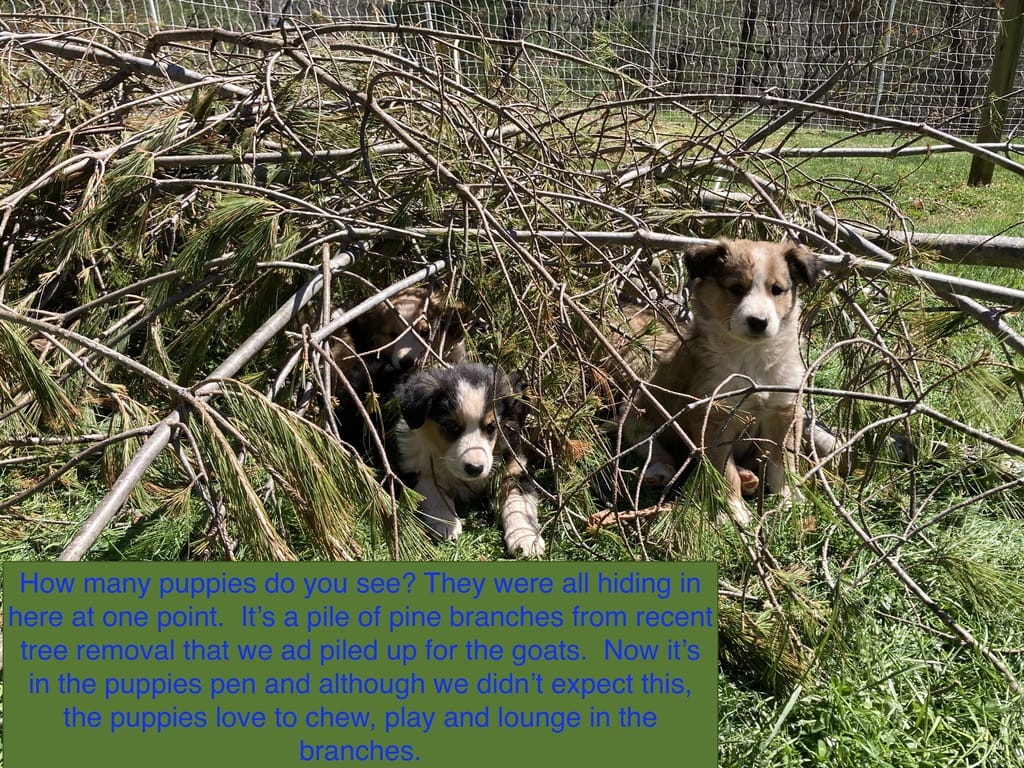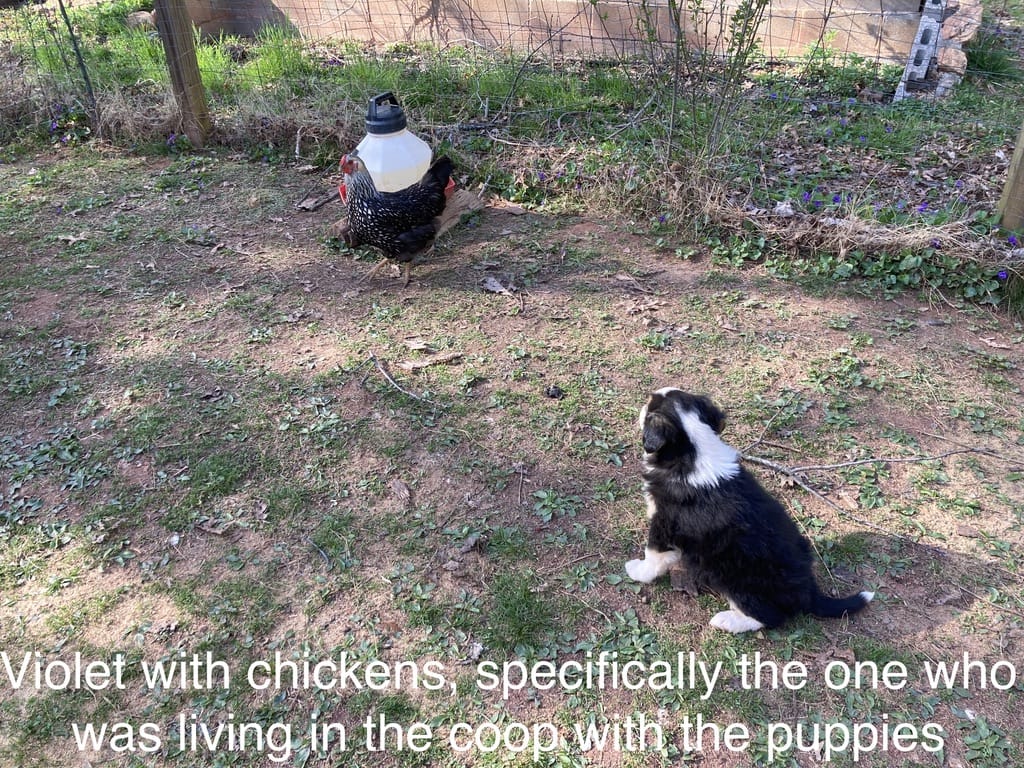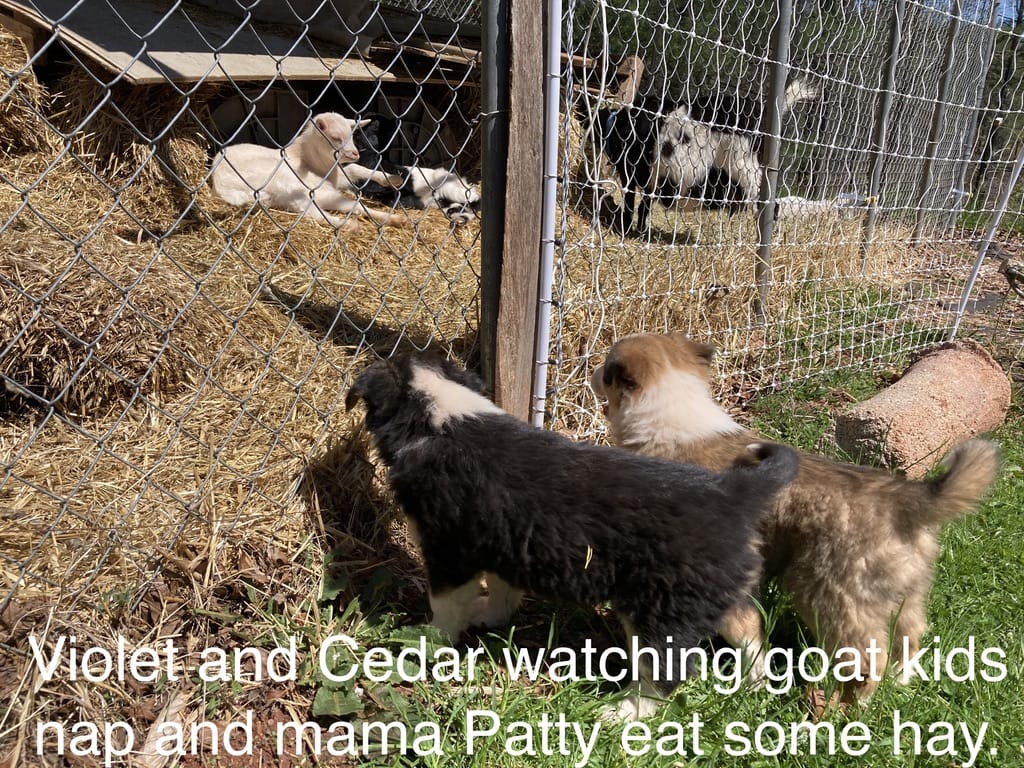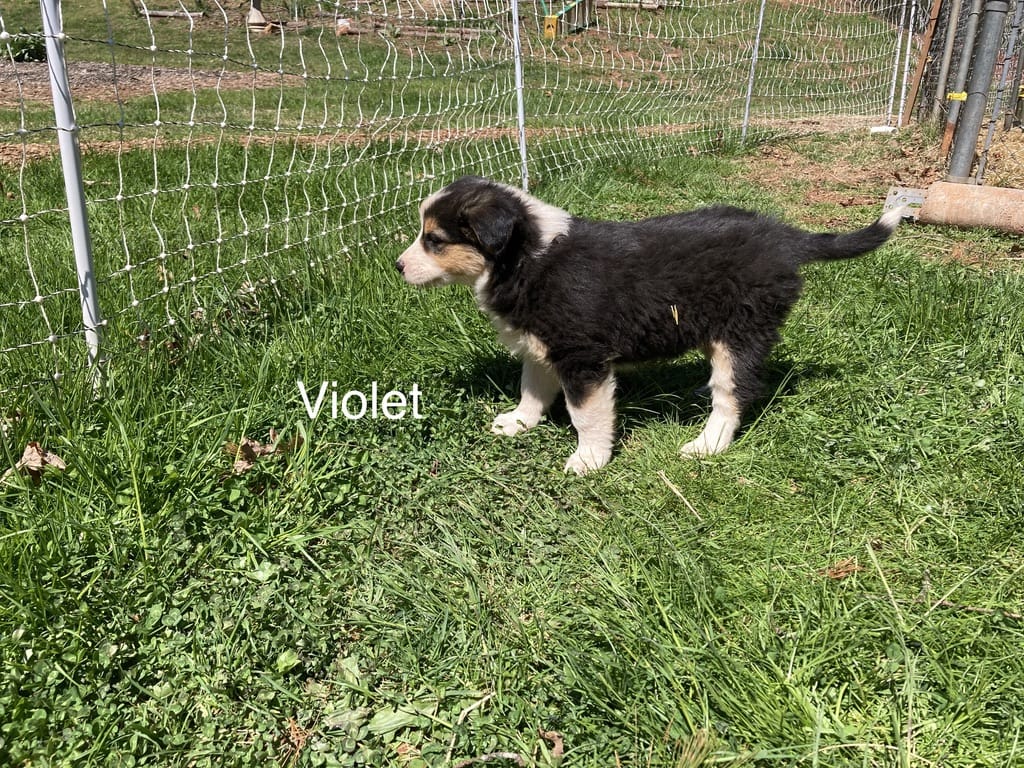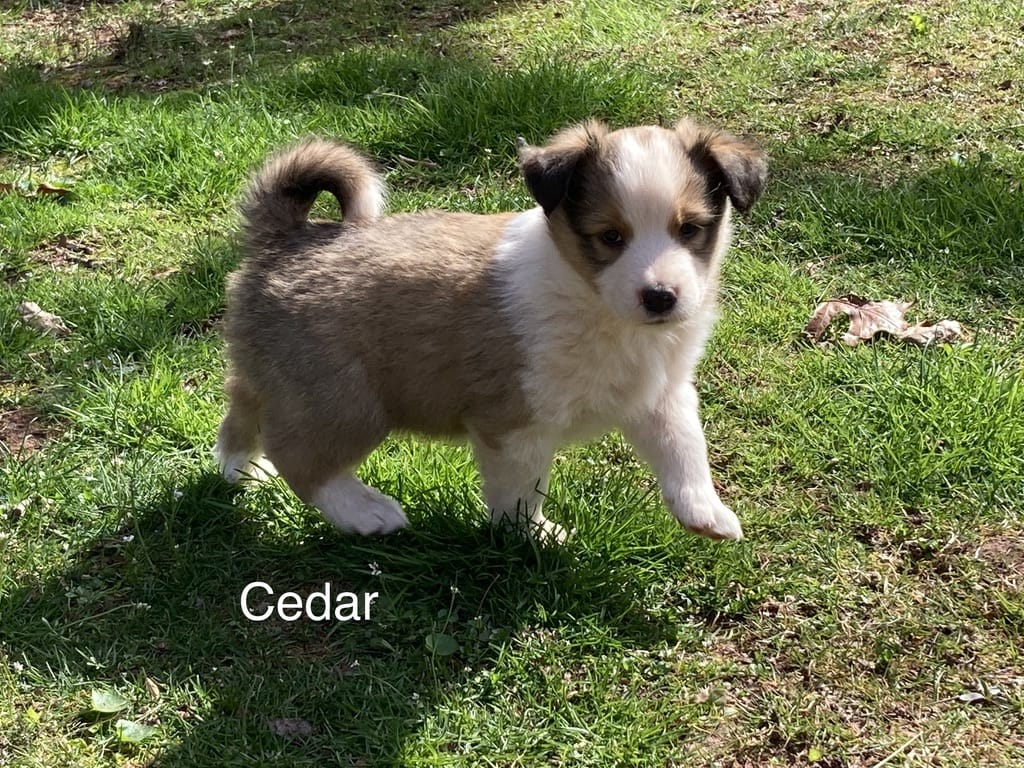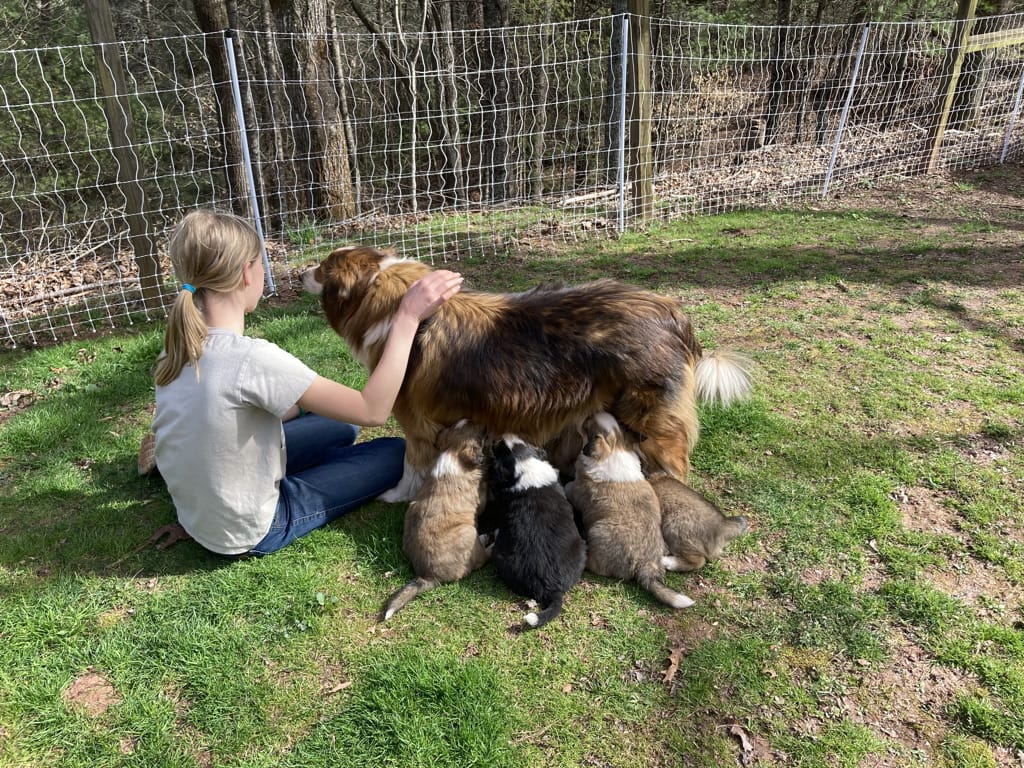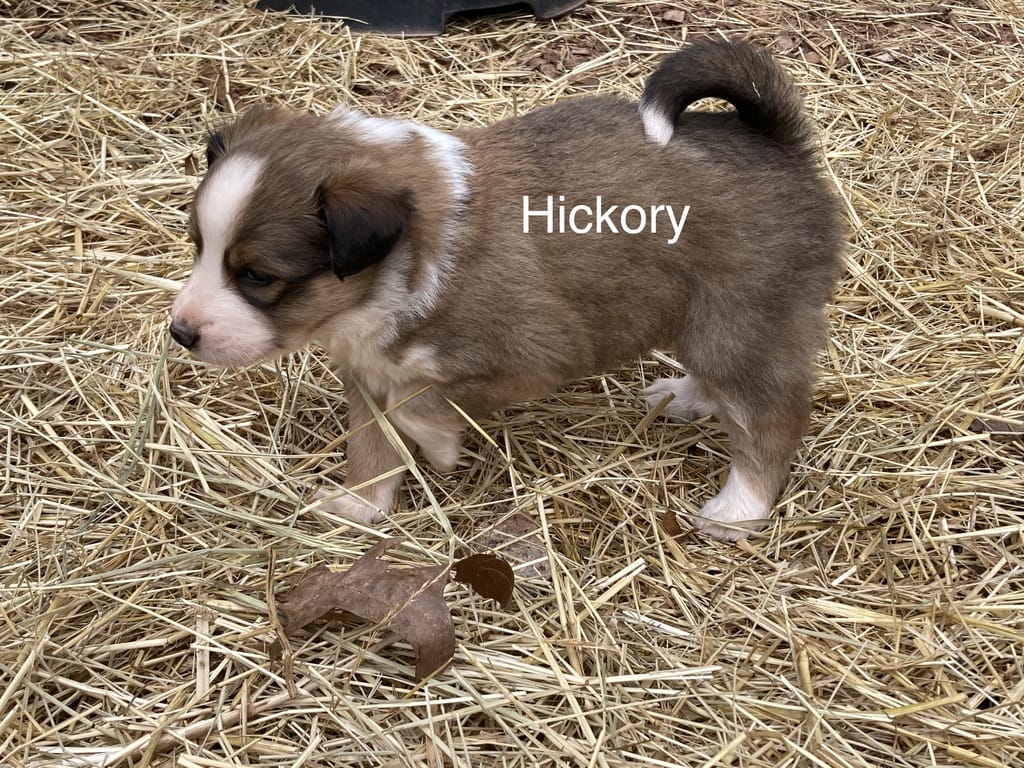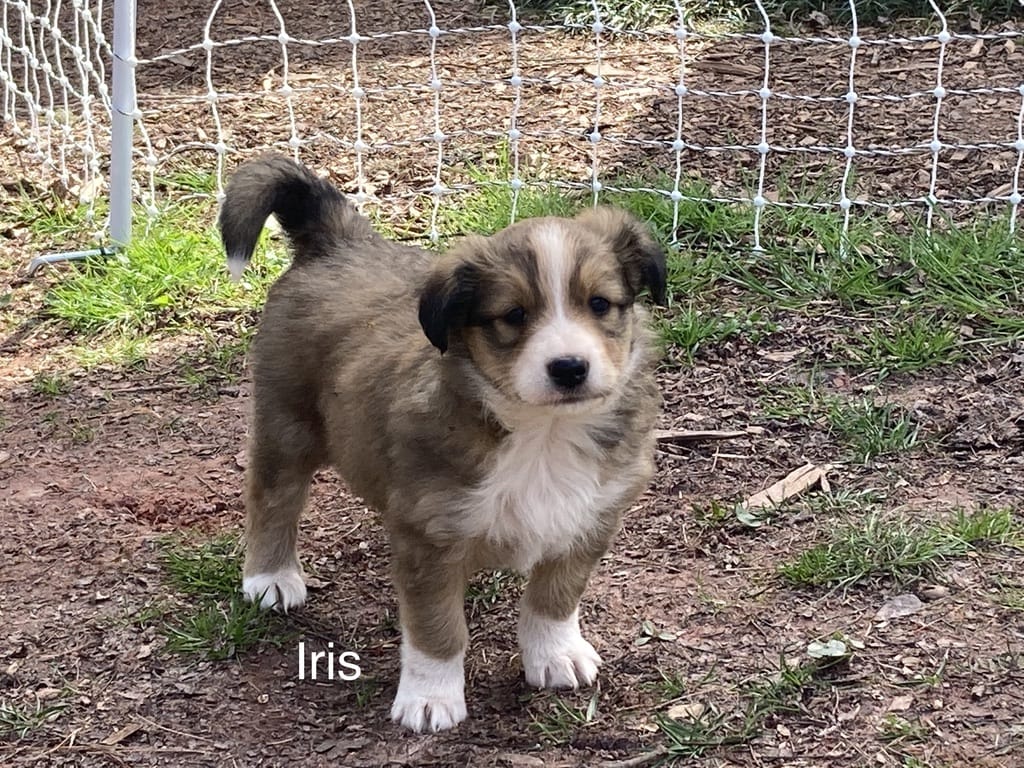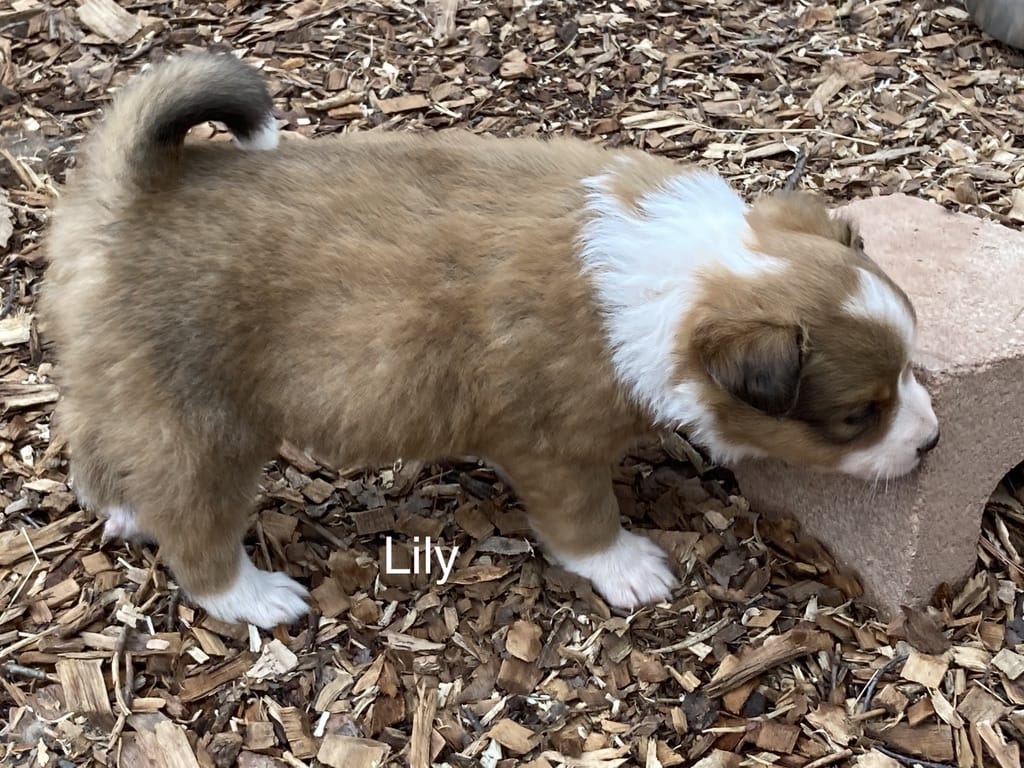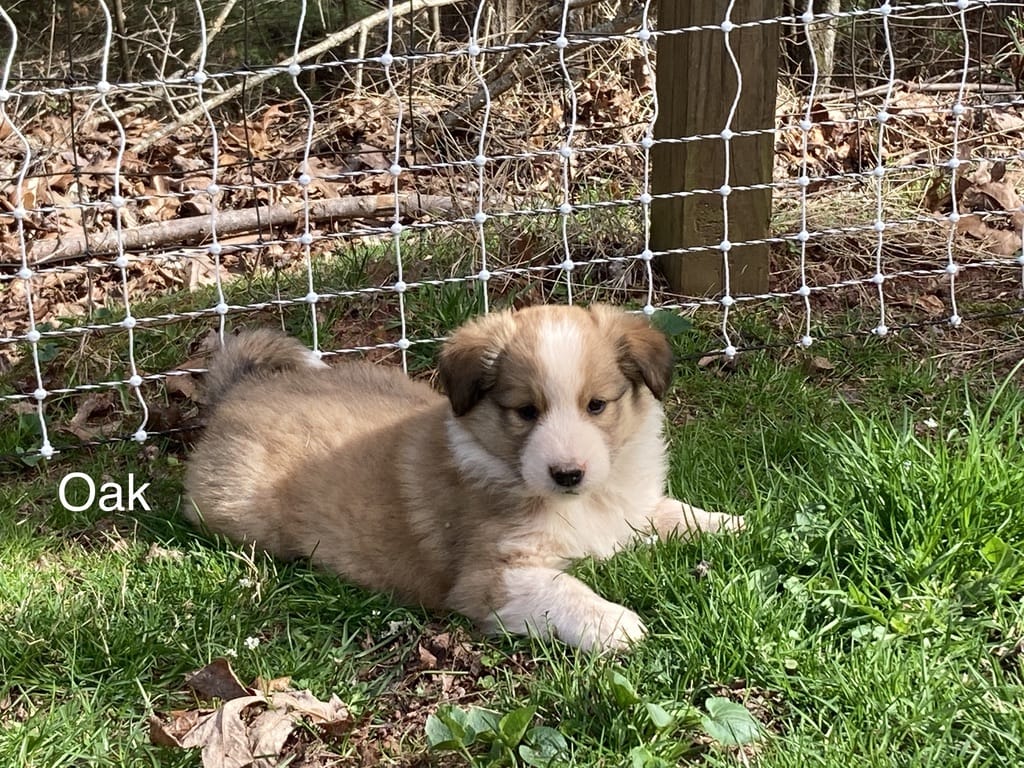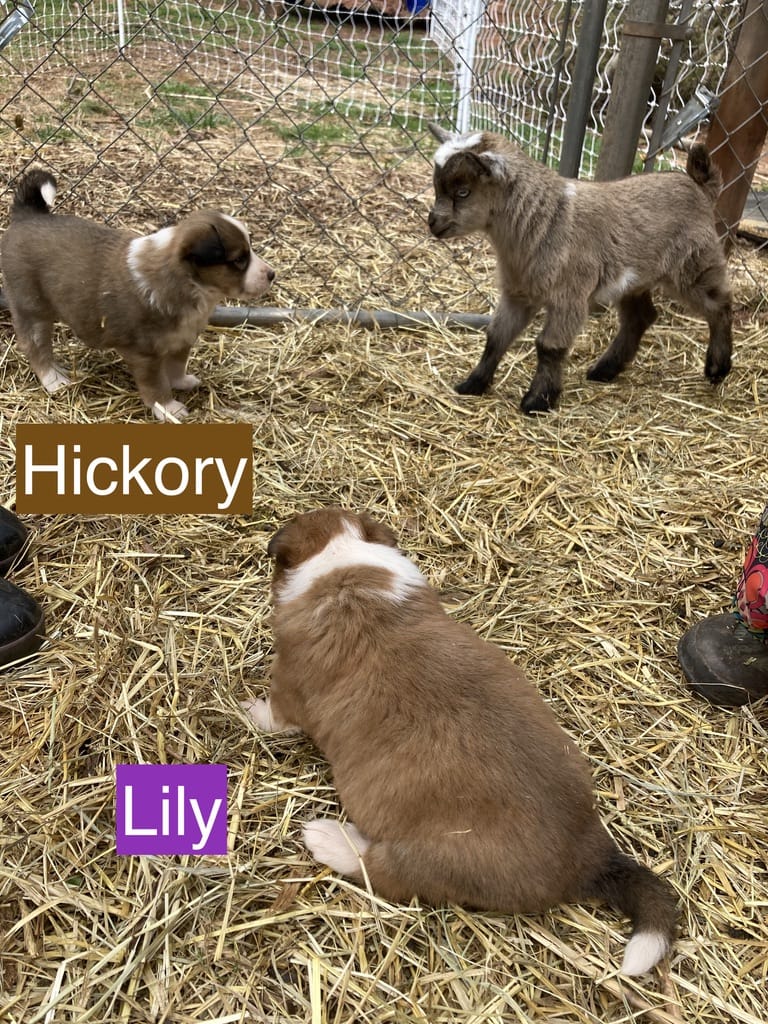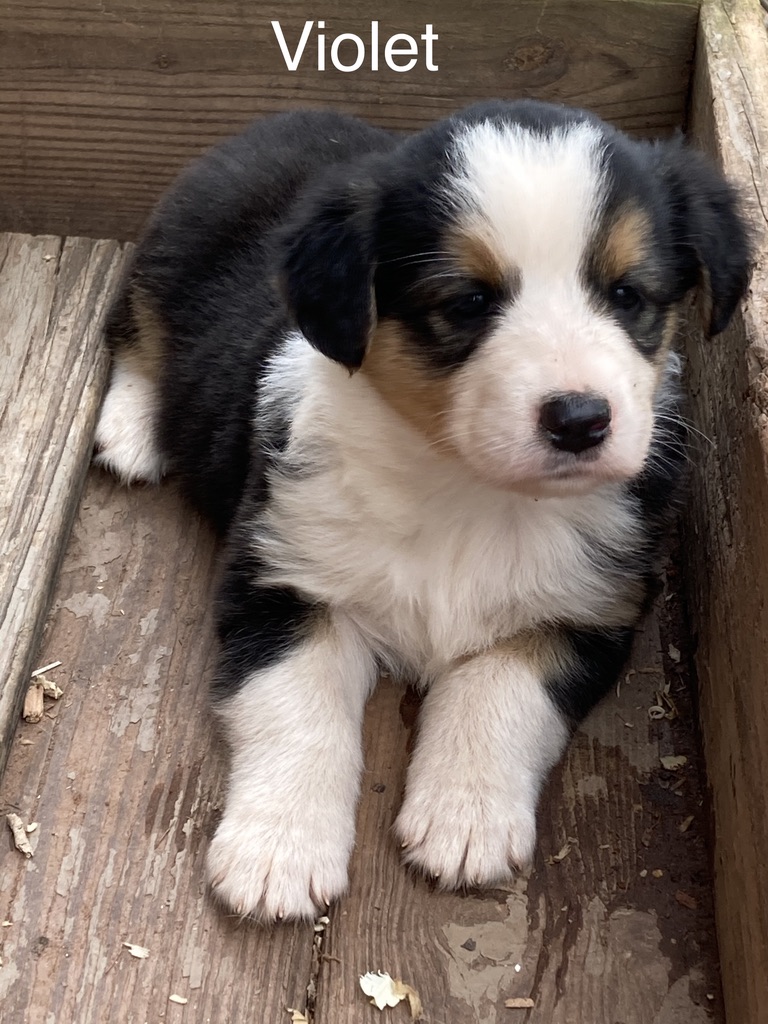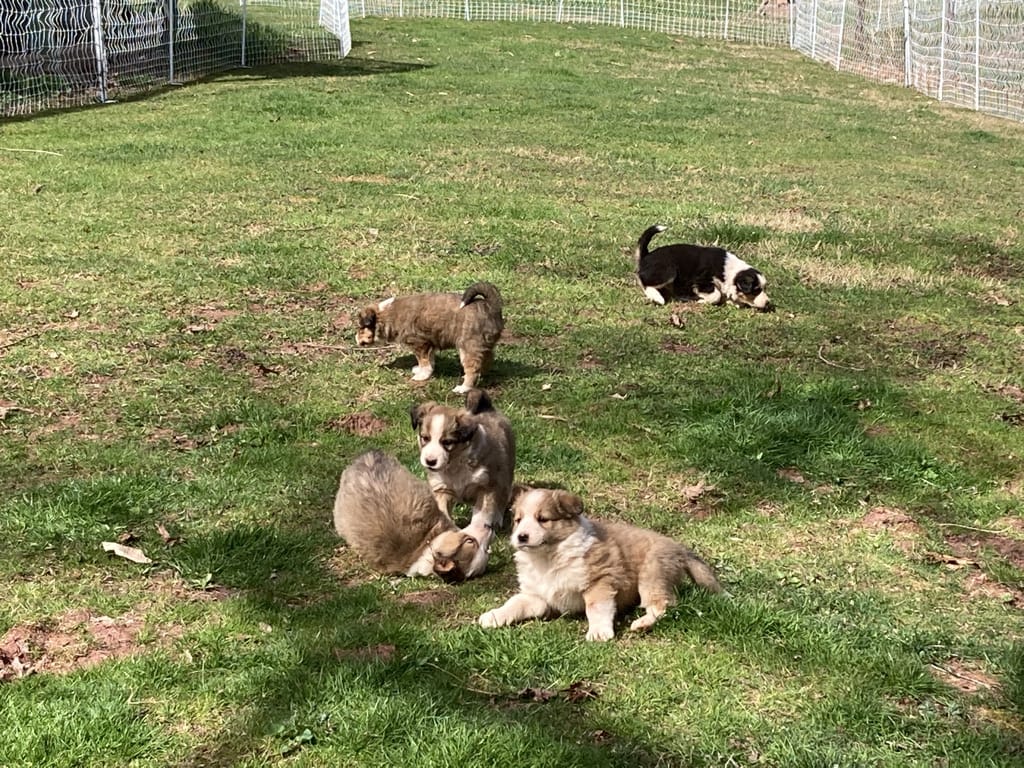 The puppies are continuing to grow, just like our spring weeds! They are keeping us very busy as we start teaching them to sit and come. They are trained to potty in pine shavings inside very well, although they are more lax with it outside.
We have recently expanded their outdoor play space significantly. Some of the photos show this larger area. They now have access to a shared fence line with our goats, but it is such a large yard they have been too distracted by new smells, leaves, flowers blowing in the breeze, grass, goat poop and wrestling each other to make it over to watch the goats! The new area is contained with electric fence. The first few times they are given access to the area is under close supervision and we're there to comfort them when the pups discover the fence. These first exposures are short, but after a few days, they're given full access under Montana's ever watchful eye.
The introduction to our other animals continues, slowly but surely. We have a photo with a few of them meeting the goat kids and hope to have more for you soon!
Montana is a working dog as well as our pet. She guards our animals and property almost 24/7 by alerting us when any non resident animal or human ventures too close. As a working dog, she spends the majority of her time outside. Similarly, these puppies are being raised semi-outdoors in anticipation of most of them moving on to farms as working dogs.
Montana is raising her litter of puppies in an old chicken coop. We kicked the chickens out to a temporary chicken tractor when the puppies were due. However, one chicken has returned to the coop and has been hanging out with the puppies for the past few weeks. At first I started to move this hen back into the chicken area, but each morning I'd find her again in the old coop with Montana and the puppies. She would be in the corner, trying not to draw too much attention to herself, laying her daily egg. She's one smart hen, because it's much warmer in the old coop, since there is a space heater in there for the puppies. There aren't any comforts like this in the chickens current quarters. Eventually, we let the hen be, as neither Montana nor the hen seem to mind being room mates. It has turned out to be a good low key way to get the pups introduced to chickens without all the excitement of a full flock.
Other introductions have started too and in the coming weeks, the puppies will be exposed to all our other hens, our cats and our goats. It takes a bit of time and diligent puppy watchers to make this work so everyone stays safe and happy. We don't need puppies having their first experience with goats to be one in which they are head-butted or where they are getting too nippy with the week old goat kids! We watch carefully for signs of stress and sweep in to intervene if it looks like either party is going to have an unhappy encounter. Short, controlled exposure to new creatures that ends while everyone is still happy, is key. In addition to puppy pics, we are including a goat kid video, because they are cute too!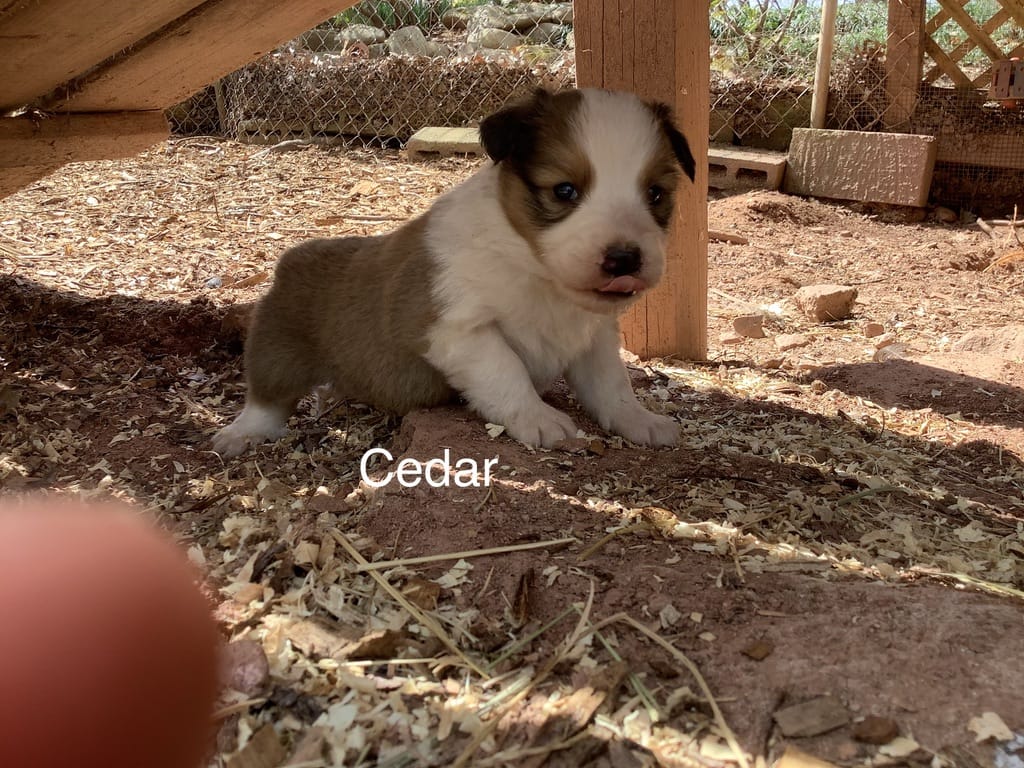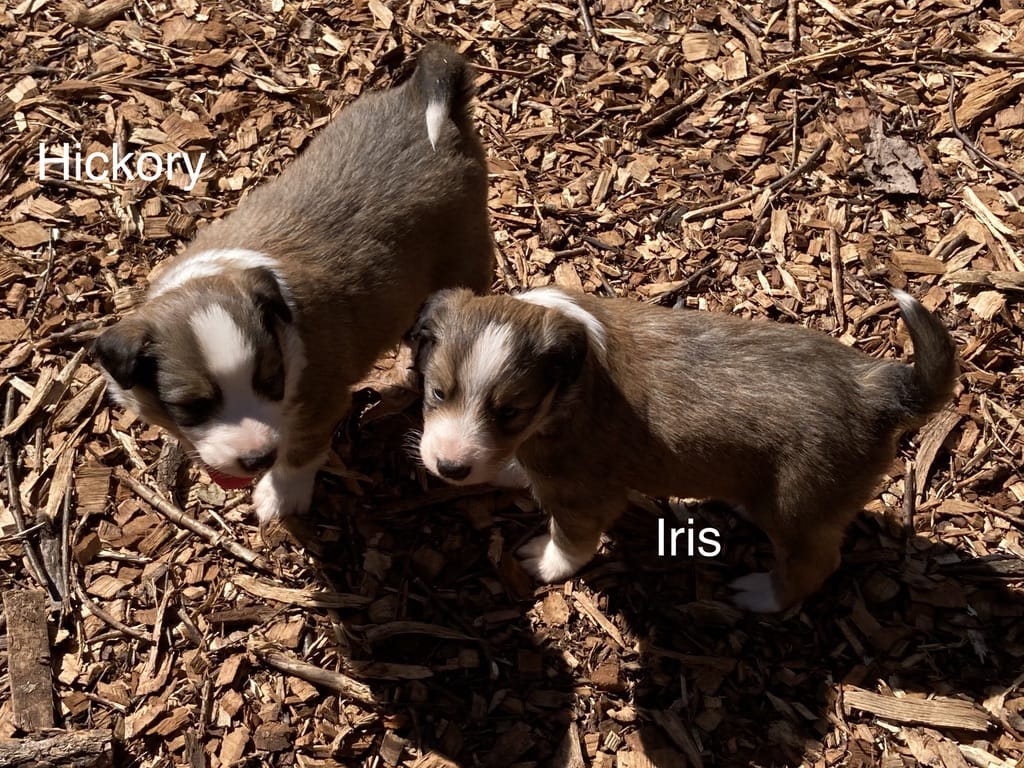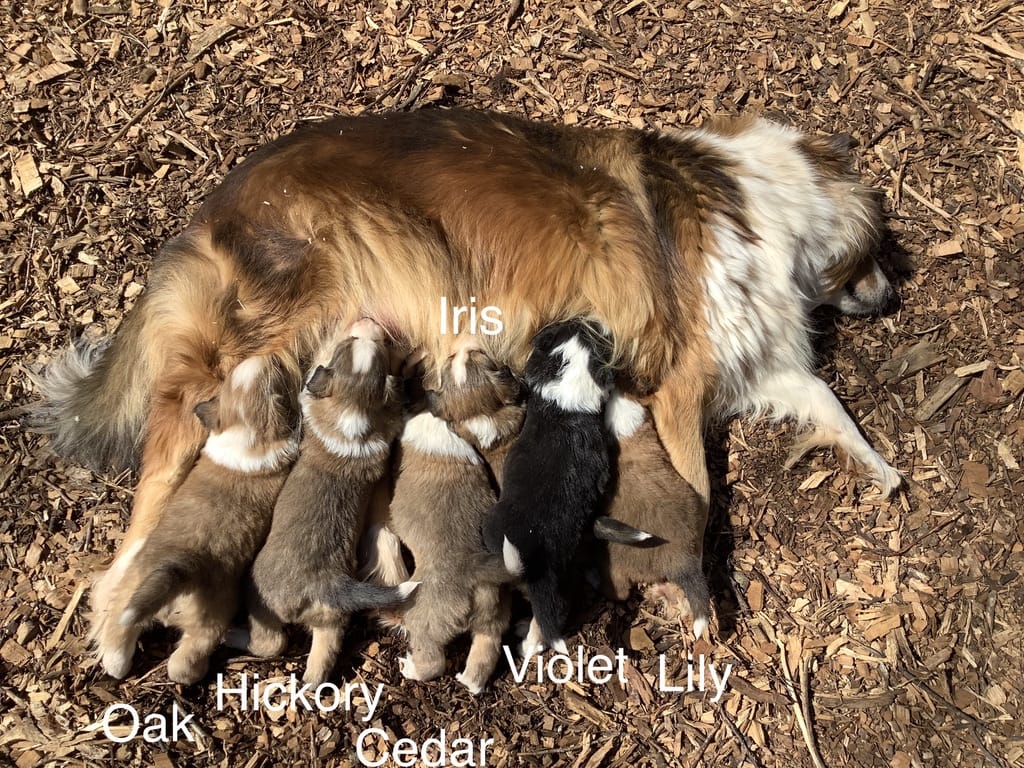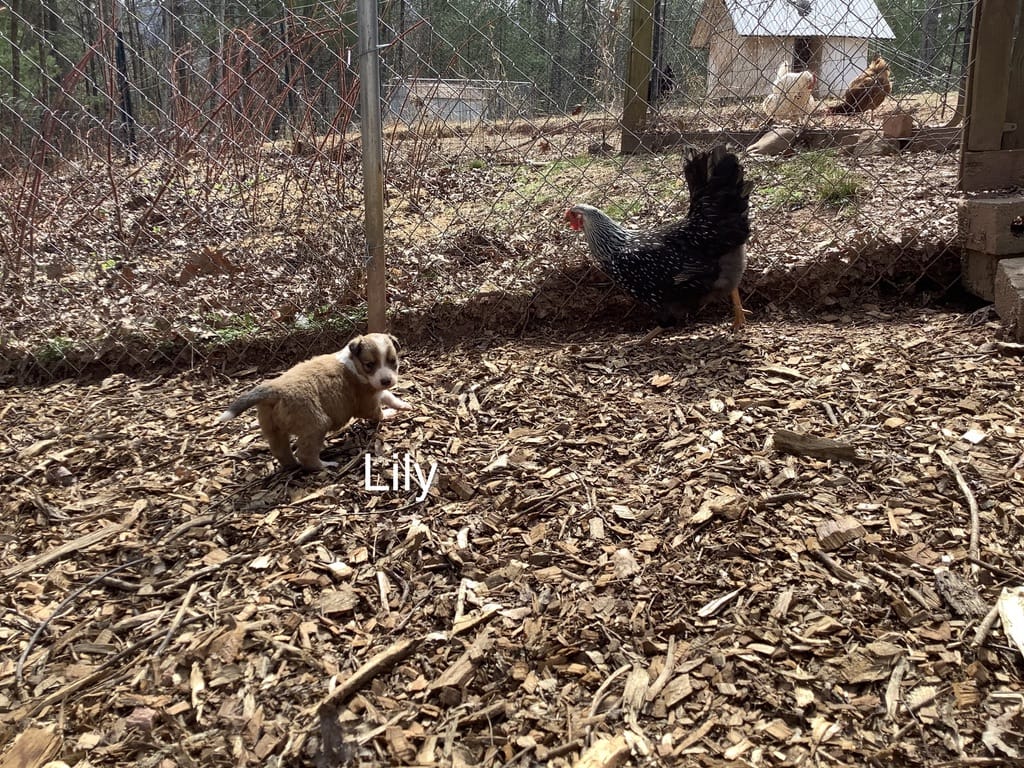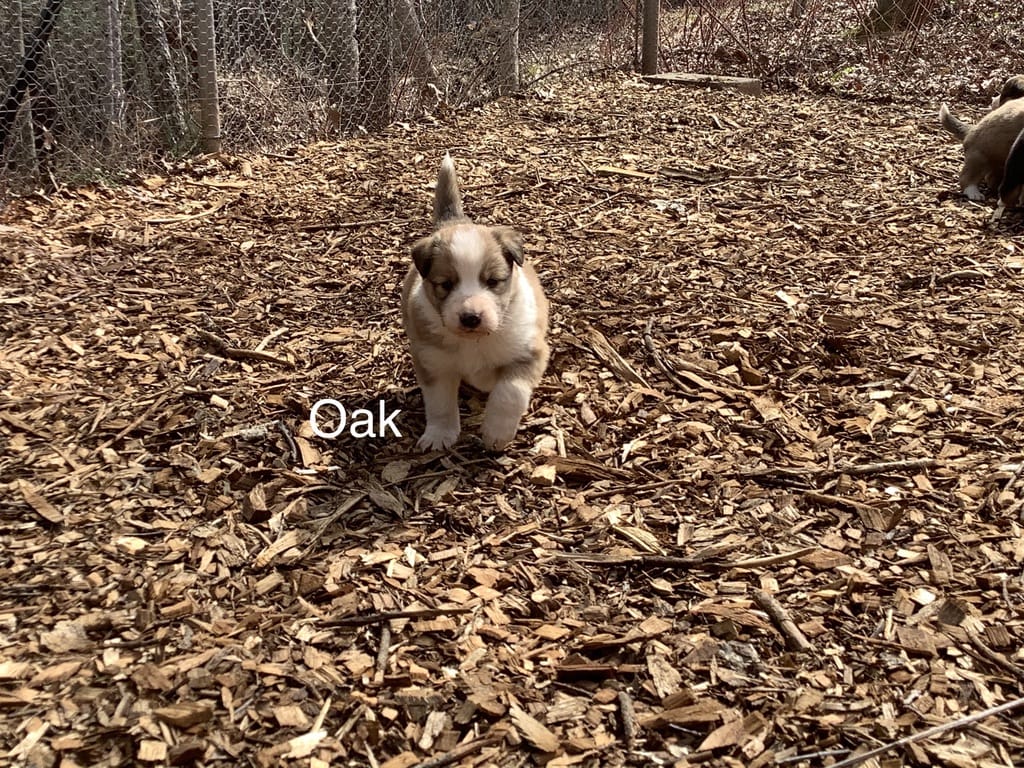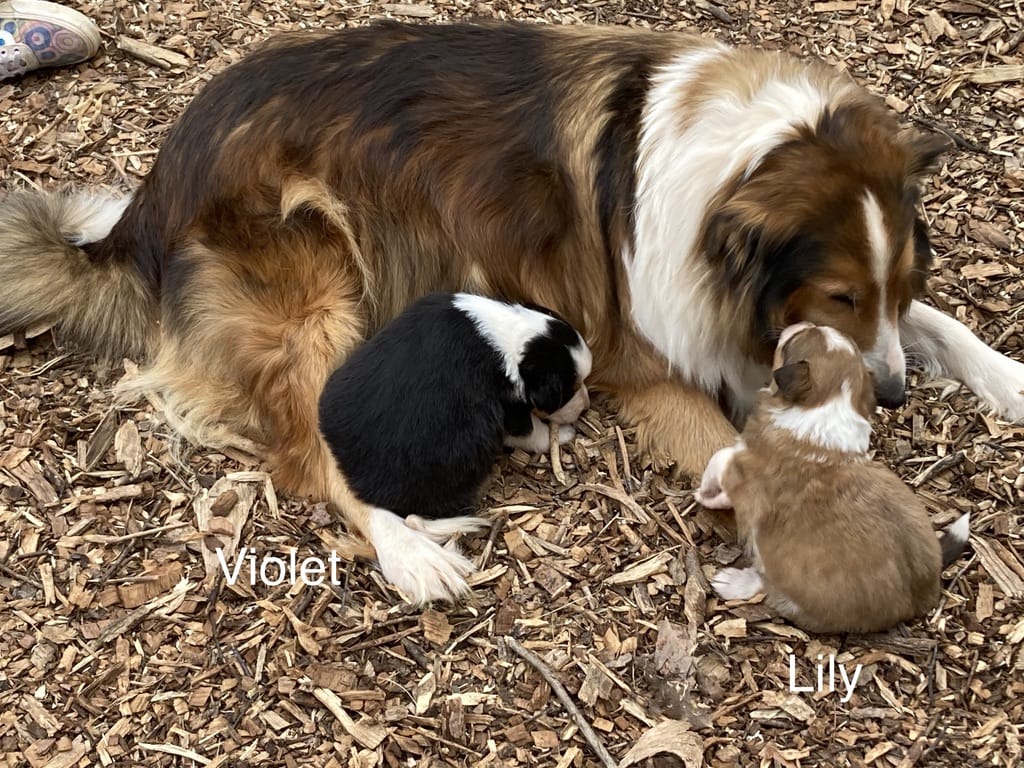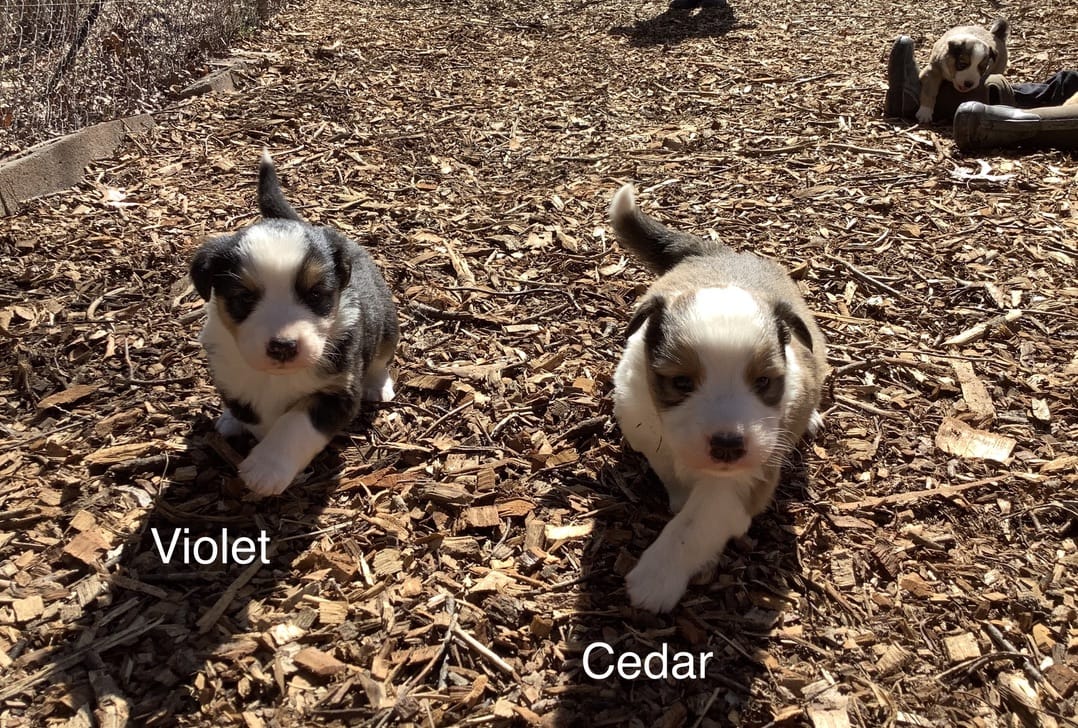 The puppies started eating semi-solid food today and LOVED it. Slowly weaning them off mama milk gives Montana a break from being their sole source of nutrition, but doing so slowly ensures the puppies still receive all the necessary goodness from her milk including essential antibodies that are passed along. They start off with soaked kibble, either with bone broth or goat's milk added in and gradually move towards just dry kibble.
The puppies now also have access to the outdoors this week since we've been having some lovely afternoon weather. We will see how adventurous they are...we aren't going to show them the way...just provide the opportunity to venture out.
The puppies have all doubled their birth weights and have opened their eyes. Most are taking several steps and then resorting to scooching to get around the whelping box to find mama, investigate or locate their next napping spot.
These past few weeks we have been engaging the puppies in early neurological stimulation. A series of brief "exercises" that are thought to stimulate the puppies already innate natural abilities. Some of them don't mind at all, but others wriggle their way through the last few exercises voicing their objections! We have discovered a few puppies practicing their bark. Despite their protests, the benefits for doing these neural stimulations are lifelong and include:
Improved cardio vascular performance (heart rate)
Stronger heart beats
Stronger adrenal glands
More tolerance to stress
Greater resistance to disease
Individual puppy photos coming soon!